M a r k e t N e w s
TANZANIA: Julius Nyerere Hydroelectric Dam Impoundment Launched
Posted on : Monday , 9th January 2023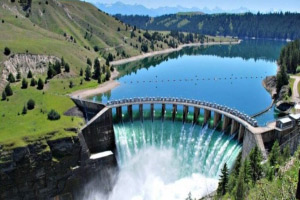 Tanzanian authorities are launching the filling of the reservoir of the Julius Nyerere hydroelectric dam on the Rufiji River. The facility will power the turbines of a 2,115 MW hydroelectric plant, one of the largest in East Africa.
News on the Rufiji hydroelectric project in Tanzania. Authorities in the East African country are beginning to impound the dam, which is being built in the heart of the Selous Game Reserve in the Pwani region, about 220 km by road southwest of the economic capital Dar es Salaam. The impoundment is a crucial step before the Stiegler's Gorge hydroelectric plant is commissioned.
Its basin will be able to hold 34 billion m3 of water thanks to a concrete dam in the shape of an arch, with a height of 134 m. Its reservoir will cover 1200 km2 in the middle of the Selous Reserve. The water flowing down from the dam will turn the turbines of a power plant with a capacity of 2,115 MW. The Tanzania Electricity Supply Company (TANESCO), which is implementing the project, estimates the annual capacity of the plant at 5,920 GWh.
Source : www.abafnz.com